Julia Jacklin announces new Pre Pleasure album and tour dates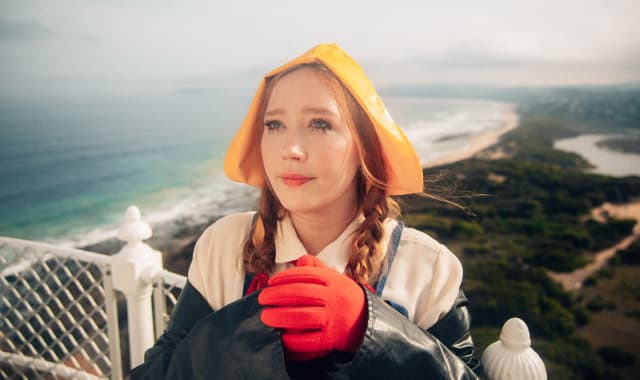 Julia Jacklin announced the details of the new album Pre pleasure and dropped her debut single. The Australian singer-songwriter's third album will be released on August 26 via Polyvinyl. You can see a video for the album opener "Lydia Wears A Cross" below alongside details of a North American tour.
In a statement, Jacklin said of "Lydia Wears A Cross": "The song is about a lot of things, but mostly about being a 7-year-old Jesus Christ superstar fanatic who attends a Catholic school trying to figure out where the way is. The clip was filmed by my constant collaborator and friend Nick Mckk at the Splitpoint Lighthouse. I played a show nearby recently and asked on stage if someone could let me film at inside. Someone in the crowd knew a guy and that was it. The rest was filmed on the streets of Northcote, Melbourne.
Pre pleasure was recorded in Montreal with co-producer Marcus Paquin and Jacklin's bandmates, bassist Ben Whiteley and guitarist Will Kidman, both of Canadian folk band The Weather Station. Owen Pallett (Arcade Fire) recorded parts for the disc with a full orchestra in Prague. This is the sequel to 2018 Crushing.
"Most of the time, I feel like I have to do all the work before I can enjoy my life," says Jacklin. "Whether it's working on songs or working on sex, friendships or my relationship with my family – I think if I work on them long enough and hard enough, eventually I'll sit down and really enjoy them. But that's not how it all works, is it. It's an ongoing process.
Julia Jacklin will be on tour from September. Kara Jackson will open for the dates from 09/09 to 20/09. Katy Kirby is the supporting act for the remaining shows.
9/9 Austin, TX – Mohawk
9/10 Dallas, TX – The Factory Studio
9/12 Nashville, TN – East Basement
9/13 Atlanta, Georgia – West Terminal
9/15 Washington, DC – 9:30 a.m. Club
9/16 Brooklyn, NY – Brooklyn Steel
9/17 Philadelphia, Pennsylvania – Underground Arts
9/18 Boston, MA – Paradise Rock Club
9/20 Montreal, QC – Corona Theater
9/21 Toronto, ON – Phoenix Concert Theater
9/22 Grand Rapids, MI – Calvin University
9/23 Chicago, IL – Thalia Hall
9/24 Minneapolis, MN – Fine Line
9/26 Denver, CO – Bluebird Theater
9/27 Salt Lake City, UT – Urban Lounge
9/29 Vancouver, British Columbia – Commodore Ballroom
9/30 Seattle, WA – The Crocodile
10/2 Portland, OR – Revolution Hall
10/4 San Francisco, CA – The Fillmore
10/5 Solana Beach, CA – Belly Up Tavern
10/7 Los Angeles, CA – The Fonda Theater
10/8 Phoenix, AZ – Crescent Ballroom